Learn about some of the inspirational members of the Gypsy, Roma, and Traveller communities who are working hard to raise awareness, fight myths, and improve conditions for community members. By no means an exhaustive list!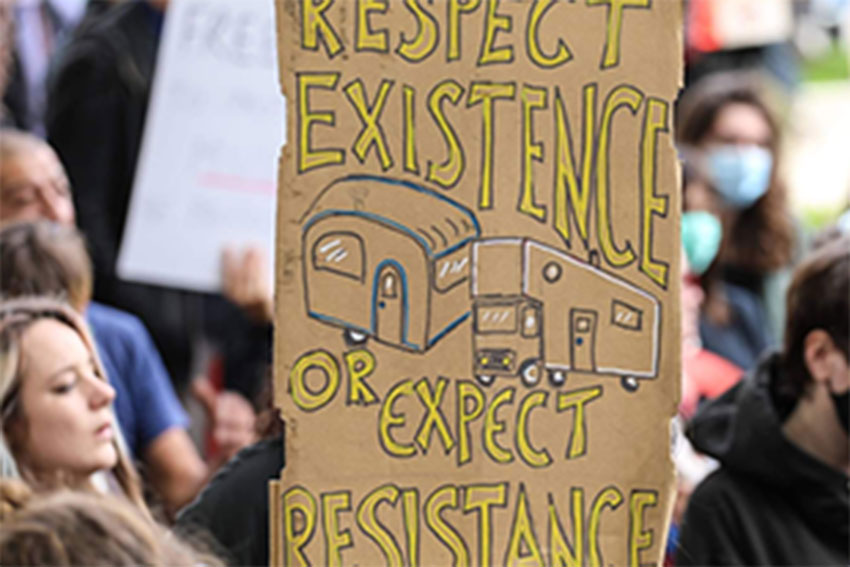 Gypsy, Roma, and Traveller Rights Activists.
Changemakers: 30 years of Traveller women activists
'The Changemakers' is a documentary by the Irish National Traveller Women's Forum that looks at some of the changes Traveller women have succeeded in bringing about – for themselves, for their own community and for the wider population. The half-hour film focuses on Traveller women activists of today and looks back at the achievements of Nan Joyce – a Traveller woman who ran for general election in1982 and who was an inspiration to many in her community.
Eileen Flynn
Eileen made history by becoming the first Traveller Senator in 2020, the first ever Traveller in the Irish parliament (the Oireachtas).
Martin Beanz Ward
Traveller comedian and activist. Martin established the first ever Traveller led podcast. Listen here.
Selection of articles Martin has written or featured in:
Oein DeBhairduin
Author of 2020 book Why the Moon Travels, a collection of twenty folk stories from the Traveller Community. Buy it here or ask your school or local library to order it for you.
Rosaleen McDonagh
Rosaleen McDonagh is an activist and a Traveller woman with a disability. Originally from Sligo, she is the fourth eldest in a family of twenty children. She worked in Pavee Point Traveller & Roma Centre for ten years, managing the Violence Against Women programme, and remains a board member. Rosaleen was appointed a Human Rights Commissioner in June 2020. She is a regular contributor to the Irish Times and has written within the framework of a Traveller feminist perspective. She is an author and playwright. Her latest book Unsettled was published in 2021. Unsettled explores issues of racism, ableism, abuse, and resistance as well as the bonds of community, family, and friends.
"Beautifully written, this book beats back the darkness. It brings us all further on" – Anne Enright
Buy it here or ask your school or local library to buy it for you.
Youth Travellers Times
TT is the part of Travellers' Times made BY young Gypsy, Roma and Traveller people FOR young Gypsy, Roma and Traveller people. Take a look here
Young Gypsies and Travellers launch activist network at Appleby fair.
Read more about it here.
Don't Call Them Gypsies — & Everything Else You Need to Know About Roma Women.
2015 article outlining some of the amazing female Roma activists transforming their communities. Explore here.
Millie Cooper is a young Romany woman from Kent and a Goldsmiths University of London Graduate where she studied theatre and filmmaking.
Find out more about her and her latest film project 'Conversations with Romany Women' here.
Introducing Betsy Mobey.
Introducing Betsy Mobel: Why I'm an activist for Romany Gypsy, Roma and Traveller Rights and you should be too! 2018 article here
Denisa Gannon.
The first Roma person to qualify as a solicitor in England and Wales wants to empower others by improving access to the law. Read about her here.
Want to be a part of the Roma Rights movement? Keep up to date with the latest news, action and activism? Sign up to become a Roma rights defender and learn more about the work of the European Roma Rights Centre here.